The primary benefit of using videos for employee training is to convey information more effectively than text, but did you know there are advantages beyond training and education?
Video also saves the time it takes to document and systemise your business, eliminating written procedures and text.
In this article, we'll examine the benefits of using video in onboarding and staff training and look at five types of video that can be used and what you'll need to create videos cost-effectively and fast.
5 Types of Video to Improve and Strengthen Employee Training
Why Use Video in Employee Training?
When done correctly, videos convey information faster than the written word, and they are more attractive to the learner.
Instead of employees wading through copious amounts of paper, a video can convey the precise information they need to know in only a few minutes.
For the company – even the small business – creating videos is more cost-effective than hiring trainers and spending hours of employees writing lengthy standard operating procedures (SOPs) that no one reads.
Here are some more reasons why you should consider videos for employee training:
People prefer watching videos
No one wants to wade through paper, reading about your business, no matter how fascinating you might think it is. Today people prefer videos, and because a video is more alluring than text, they are more engaged, and that is what your aim should be for each employee.
People are suffering from information overload in the digital age, and they struggle to read everything that's put in front of them.
In short, if you want your employees to enjoy the training, you must make it engaging and interesting, and that's exactly what videos can do. Videos attract and retain attention more than documents and manuals.
High employee engagement equals increased commitment and loyalty to your business, higher productivity and superior quality of work.
Video is easily sharable and accessible
You can easily share videos with employees and people outside the company. Sharing is as easy as sending a link if you use a video hosting platform.
Imagine how difficult it can be to deliver training to people simultaneously in the same place. It becomes a challenge to align everyone's schedules and follow up with those who couldn't attend. Video can be accessed anywhere at any time.
Video can be used in self-study at anytime
Video is excellent for employee self-training – if you are a small business owner, you won't need to spend hours explaining the same thing to every new employee. Instead, you can use a video over and over again.
Simply create the initial videos, add them to a learning system or information repository, and your process software will take care of the rest. This process is automatically recycled repeatedly without further human intervention, saving time and expense.
Using video in training and development, your employees don't have to attend training sessions. Instead, they can watch the video whenever they are free, meaning no work time is wasted.
Higher retention of information
The brain processes images a lot faster than it does text. Forrester Research suggests that one minute of video equals approximately 1.8 million written words.
Because of this, we can assume that visual aids such as video can increase the rate at which information is retained.
In addition, for concepts that are difficult to understand, a demonstration video of the process is easier to grasp.
The brain processes images a lot faster than it does text.
5 Types of Video to Improve and Strengthen Employee Training
More time and cost-efficient
Making videos no longer requires a production team. Instead, video production can be as simple as reaching for your back pocket; these days, everyone carries a smartphone and has access to free screen recording software.
Creating videos is now quick and easy, and anyone can do it. You don't need expensive equipment or a team of experts. Creating a video is faster than creating written content!
If you have a lot of employees and are used to having a trainer do the training live, since a video is recorded, you only need a space for your employees to watch and listen to the video. So in this instance, you are saving the cost of a trainer and a venue.

Professional & compelling
The best companies to work for always try to make a good impression on their employees. They also try to make work a fun place to be. People want to work in fun environments, and they want to be proud of who they work for.
Present a video they can watch, or hand them a manual filled with text to read: which option do you think will impress them more?
Let's say, for instance, you onboard a new employee and present them with the "About Us" section of a company's operations manual, and they are welcomed by a long page of text explaining the company and what it does. Alternatively, you direct them to the company's intranet or online playbook on the "About Us" subject. They are welcomed by an exciting video explaining what the company does and showing the behind-the-scenes of the company. Which version do you think will help people understand more about the company? Of course, it's the one with a video.
Equally, if you are training your teams about how to use a system in your company or teaching them about your products or services, video can be one of the effective ways to do it.​​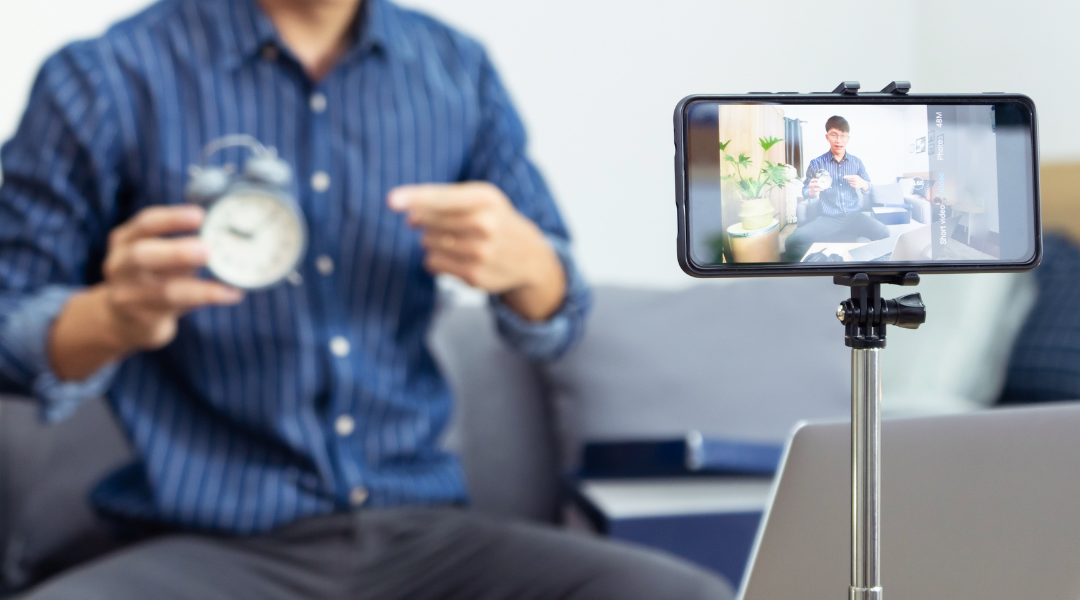 5 Types of Videos to Use for Employee Training
The videos you create for employee training can be used as a) part of an automated onboarding process, and b) repurposed to maximise their value.
For example, creating a product video for new clients can double up as a training resource for new employees.
Here are five ideas on how to use video to improve and strengthen employee training:
1. Product Videos
Your employees are your brand, and if you get it right to impress them, they'll also be your most loyal fans, proudly spreading the word about where they work and how great the company is.
Start by inspiring employees with your training method – have a product video made to explain what your company does and make it unique, or at the very least, interesting or entertaining to watch.
Peloton's product video begins with the original story of the Peloton bicycle. Many demo videos such as this one outline the benefits, but speaking to the customer's pain points is even more powerful. These story product videos are another great addition to showcase the business's customer profile and mission to new employees.
2. Onboarding Videos
The goal of onboarding programs should be to introduce the company to a new employee, so an onboarding video should include company culture, values, and mission, replacing manual documented procedures, operations manuals, and training manuals.
The onboarding video achieves multiple purposes, and just from watching, the new staff member can pick up non-verbal cues about the overall company "vibe".
Onboarding videos are a memorable way to effectively convey core values, introduce people to their peers and give them an idea of what to expect.
Zappos, an online retail store that sells shoes and clothes, created a simple onboarding video that introduces new team members and authentically explains their core values. While sitting on a chair, the new employee can view the working environment and get a good idea of what daily life will be like working for the organisation.
3. Internal Training Videos
Microsoft slashed training costs from $320 per person to just $17 per person by moving to internal training videos.
Internal training videos can replace the costs of hiring a trainer and save time and hassle. Use this type of video to explain complex processes or demonstrate all a team member needs to know.
Pagliacci Pizza, a pizza restaurant, created a video for employees to teach them how to hand toss pizza dough:
4. Company Culture Videos
Every company has its own culture, but most are not by design.
It pays to consider the type of culture you want to build and then develop the desired culture into your recruitment process, starting from the advert so that you can attract the kind of employees that fit the culture you want to nurture.
Create a company culture video to demonstrate to new employees how your people behave and what's important to the business.
A company culture video sets the tone for new employees for success.
Fiverr, a digital marketplace for creative and digital services in more than 150 freelance categories, demonstrates what the company looks for when hiring employees in this company culture video:
In this next company culture video, Basecamp, a project management and communication platform for remote teams describe its remote work culture.
5. Video Voicemails
Use video voicemails for announcements on the company intranet or chat platform, or record a friendly and personal "Hello and welcome" video to a new employee.
You could also use video voicemails to answer questions and then add the video voicemail to the company knowledge base with software such as Trainual.
Video voicemails can be embedded into emails; they are also more effective at getting attention than text-based emails.
Here's an example of a video voicemail by Covideo, a video messaging platform: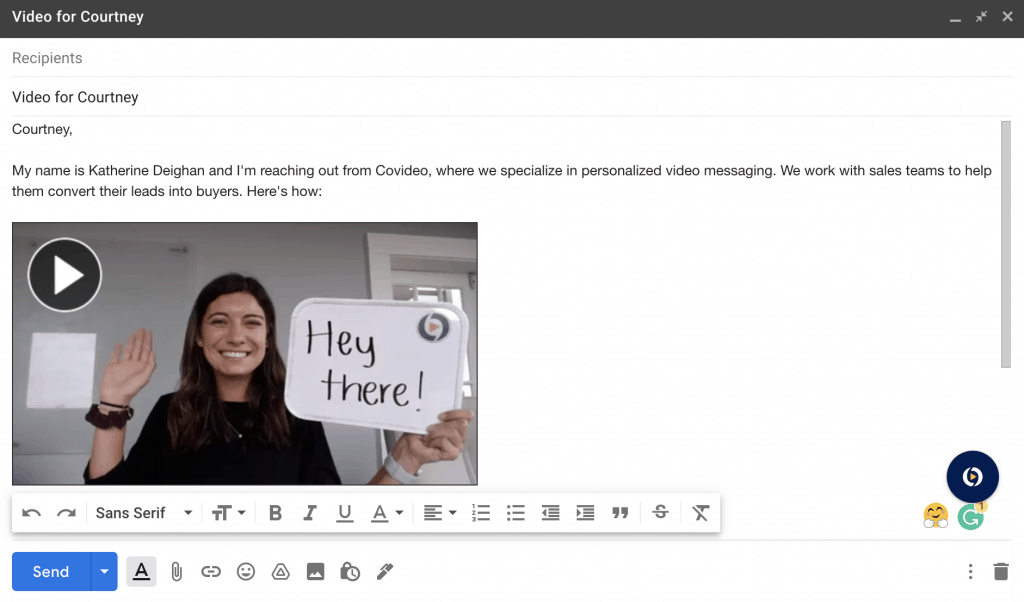 📌Tip! When using video voicemails, add the word "video" into the subject header and keep the video short (and sweet).
What you need to create your videos
If you have a tight budget, you still have options to create professional videos without paying an arm and a leg for an agency to do it for you:
Use your smartphone. All you'll need is a quiet space with good lighting and a way to prop your phone up to stand still. Perform a quick test before your shoot, and when you're happy with the environment, start recording. Once recorded, you can embed it on your website and social media channels.
Hire a freelance artist to create a product video for you. You can do this through a service such as Fiverr.
Use video software such as Lumen5 or Animoto
Summing it all up
Using video improves employee training and is also faster to set up, more cost-effective, and more engaging.
And, you don't need to pay a fortune for an agency to do it for you unless you are creating external videos for use on your website or in proposals. Otherwise, all you need is creativity, a plan, screen recording software and a smartphone.
Now that you understand the benefits of using video in your business, get started by making a list of all the videos you could create for each area in your business, and then assigning the video creation process to your team.
Get more information about systemising your business and the quick and easy way of capturing business processes to scale faster and easier. Let's discuss what systemising your business and employee training can do for you; schedule a Systems Success Call with Wendy.