The people that buy from you are the lifeblood of your business. Without them, your company would cease to operate.
In fact, Forbes reports that 80% of new businesses crash and burn within 18 months of startup because entrepreneurs don't understand their customers or how to retain them.
To drive home the point, Geoff Graham, CEO of GuildQuality, a customer survey organisation, analysed 10 000 customer surveys over a period of 3 years and found that service providers who give the best customer experiences are 10 times more likely to stay in business than those who provide substandard service.
Customers have power; they know more, and they expect more that's why it's important to understand the significance of customer experience, why it matters and the role of business processes in reforming the customer journey.
What is Customer Experience?
Customer experience is the customer's perception of their interaction with the company that provides a product or service for the duration of their relationship.
The customer experience includes all the touchpoints in the customer's journey with you. It is the sum of all parts.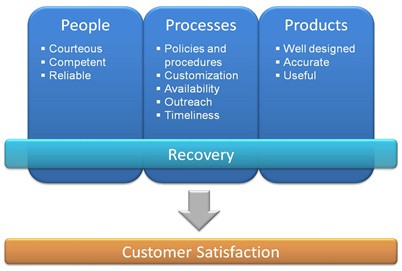 A typical example of the customer experience would include:
The initial enquiry by the customer
The follow-up emails sent via your email marketing software
The sales process
The way the service/product is delivered
The after-sales process
The customer support experienced when encountering a hiccup
The survey was sent after receiving customer support
Why Customer Experience Matters
By 2020, customer experience will be more important in your customer's buying decisions than the actual product, or its price, and most people will pay more for a better experience.
The companies who are investing in customer experience do so because:
A good experience means the business is likely to retain current customers, and when you work out the cost of onboarding new clients, it's well worth it to hang on to those you already have. A 5% increase in customer loyalty can increase profits by 25% – 85%.
When customers are happy, they'll refer you to their friends and family. But if they are not, they'll also tell their friends and family, damaging your reputation and potential for more business from that avenue. Word-of-mouth is the most powerful form of advertising. Emyth backs that up by stating that your customers are your best advertisement.
When customers are satisfied with their experience with you, you can cross-sell and upsell, which means more profit for your company.
At the end of the day, prioritising customer experience means greater profit.
Prioritising customer experience means greater profit.
How Processes Drive Customer Satisfaction
Contrary to popular belief, customer satisfaction does not equate to customer loyalty. When asking your customers how satisfied they are with your service, most will say satisfied.
When asked if they would buy from you again or recommend you to others, the majority will most likely answer somewhat likely. We can then assume that if a customer is only somewhat likely, their loyalty is in serious doubt, as they can be seduced too easily by competitors in the market.
What really counts are the processes behind the journey. When these processes are created effectively, the result is:
Consistency. If you've ever wondered why you enjoyed great service from a company one day and atrocious service the next, it's more than likely due to a lack of business systemization or that the process is not being monitored. Franchised business tends to shine in this area because if their products and service were inconsistent, it would ruin their entire business model. Franchises are experts at creating and implementing service standards.
Compliance with quality assurance.
Meeting contractual obligations.
Greatly enhanced service recovery. An angry, frustrated customer can give you a second chance if service recovery measures are in place.
Understanding what you're doing right and what you're doing wrong so that you can create a continual service improvement loop.
Better service from the front line. Employees understand what's required of them, how to handle complaints and how much authority they have to initiate actions to turn frustrated customers into happy ones.
Professionalism. Employees are kept up to date with knowledge and trends and any other information that may be useful to customers. They are equipped with the right resources to assist customers.
Fewer problems with products and services.
The most successful business processes are those that have been designed as simply as possible and which are easily understood by everyone in the organisation, or at least those that have any impact on service touchpoints.
The most successful business processes are those that have been designed as simply as possible.
Summary
8 out of 10 new businesses fail because they have no clue how to keep their customers happy.
The journey your customers take with you should be a priority because it translates into repeat business, free and powerful advertising, and greater profit.
To achieve the kind of customer experience that keeps you in business, and gives you dominating power over your competitors, demands carefully constructed processes that lead to consistent service and products, high quality, client retention, understanding customer needs, better service from your employees, professionalism and fewer problems.
The value to your business is in building processes to increase customer happiness. The fastest and easiest way to get these processes in place is to get help rather than struggle to figure it all out yourself.
Check out Process Made Simple, the smart way to systemize your business. Or, to find out if I can help, schedule a systems success call with me.