There are many advantages to having a motivating new team member onboarding process, two of which are:
Developing an effective onboarding process means less stress for you as the business owner because you can trust that the process is doing the work for you, and doing it well enough to to make a positive impact on the new employee. This also impacts ROI, cutting the time to get someone off and running fast.
The way in which a business conducts onboarding sets the stage for the future success of any new team member. Onboarding has been shown to increase retention and performance, in that it is the starting point at which engaged and high-performing team members are developed.
This article explores what the team onboarding process should include, why you should develop one, the consequences of not having a process, and, how to set it up, so it takes care like a charm every time.
What Does an Onboarding Process Include?
An excellent onboarding process should include:
Preparation planning for the day the new person arrives.
An introduction to the company's vision and culture.
An introduction to the tools the business uses.
Familiarisation with the workplace.
Meeting fellow team members.
Training.
Related: How Your Business Can Work Smarter With New Technology
Why Have a New Employee Onboarding Process?
To understand the significance of a new employee onboarding process, we need to look at what makes a business succeed. A business needs great systems for generating leads, converting leads, delivering a product or service, managing finance and, crucially great people.
The reason why onboarding is essential is that people are the lifeblood of your organisation. They are your business's representatives. Once your business begins growing, you need to delegate, which is why you need people you can rely on, to do business with as much integrity and professionalism as you would.
If you already have employees or contractors, then you'll know the time it takes and the effort involved to get that new team member to the point where they become useful in the business. What if you could cut that time in half and delegate parts of the induction process?
This is possible if you invest time upfront in putting together a well-thought-out process. If you have been onboarded at least once before, you'll have a starting point to build the process.
If you are ready to take on people in your business, having the onboarding process set up and ready to go will prove to be easily repeatable and a considerable time saver, not to mention very professional.
Related: The Right People in a Systemised Business Is Pure Heaven
From another perspective, think for a minute how you would feel if you were excited about your first day in a new job, only to find that no one knew you were coming. Maybe this has happened to you.
This amazing job opportunity you had envisioned is now in serious doubt. You feel like an outsider, everyone is too busy to show you around, and the promises made in the job interview are nowhere to be seen.
Feeling like a fish out of the water, you start to question, "did I make the right call coming to work here?"
When the first impression of a new member is negative, it's hard to undo. Negative impressions affect the quality of work you can expect from the person and thus impacts ROI.
It's safe to say that the best companies to work for are those that have an efficient onboarding process because they understand the value it brings.
The best companies to work for, are those that have an efficient onboarding process because they understand the value it brings.
Employees are the most engaged when they have gone through an onboarding process. And research by Gallup proves that the more engaged your employees are, the more growth is driven and revenue increases.
An effective onboarding process should:
Provide an excellent first impression which results in greater respect, more enthusiasm and increased workplace pride.
Contribute towards building your desired company culture.
Immediately increase engagement levels.
Reduce cost.
Equip people to do their jobs well.
Realise your ROI faster.
Have parts of the process that can be delegated to other team members.
Common Onboarding Issues and Their Consequences
Companies often spend very little time onboarding new team members. According to Harvard Business Review, up to 20% of staff turnover occurs within the first 45 days of employment.
Having no formal onboarding process will lead to some fairly serious consequences:
Onboarding is not planned, so no one knows their part in it, and therefore nobody takes responsibility when the new person joins.
Everything is disorganised, resulting in a poor first impression.
The new person doesn't know who to ask for help and information.
It takes a very long time for new members to acquaint themselves with your operational processes, expectations, culture and fellow workers.
Incomplete hiring process – often, some documents go unsigned.
No standards, so employees do not know what is expected of them.
Loss of employee respect which impacts productivity.
Developing Systems to Make the Process a Breeze
The key to making onboarding a breeze is to systemise the process so that it can be duplicated each time someone new starts with your company. The process doesn't need to be overly documented, and a few well-thought-out checklists is all that's required.
Once the onboarding process is done, it's ready to go for next time. I say a few checklists as I recommend you have a list for the main person who is responsible for the successful onboarding and one for the new team member to ensure they have completed everything that is required of them. These days in business with so many systems, it can take a while to get through all the necessary paperwork and training.
The key to making onboarding a breeze is to systemise the process so that it can be duplicated each time someone new starts.
Next to consider is where to keep the checklists and records. In regards to HR in general, there are often a lot of documents involved. A simple filing structure would be like this: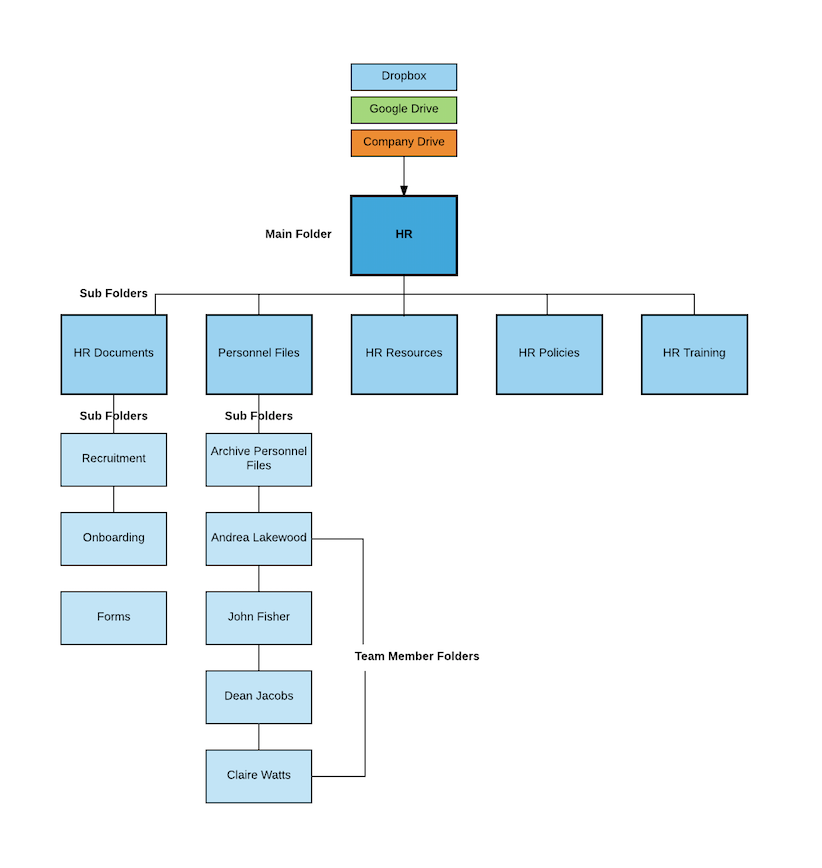 How to Make Your Team Onboarding Process a Breeze
Checklists, not just onboarding checklists, should be kept with all your other documented processes in a program such as Trainual. Alternatively, they can live in your Project Management software as a template that you can duplicate when you need to use it.
All good project management software will have the feature to create templates and duplicate. Here is an example of what an onboarding process might look like in Trello.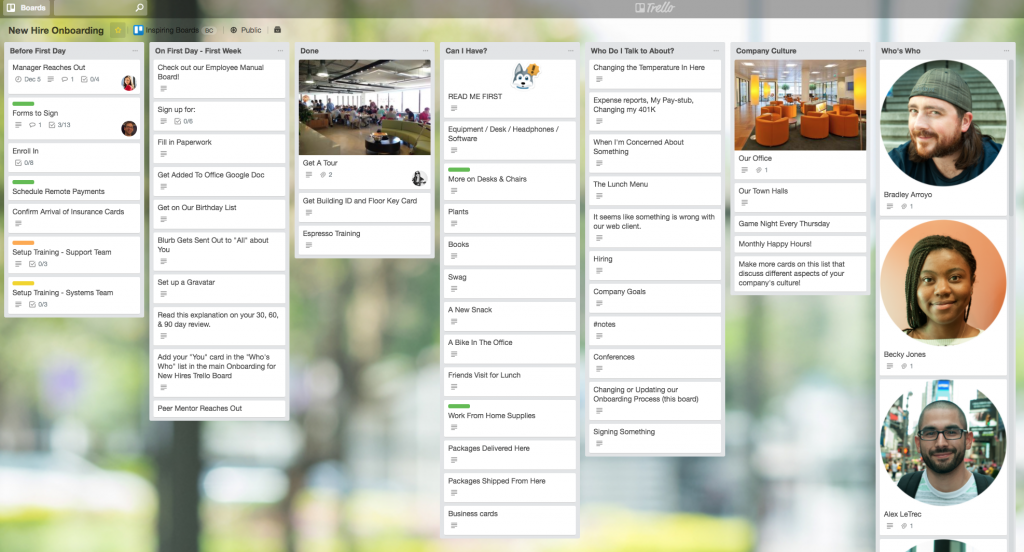 Not sure what you need to include? Download the FREE Onboarding Checklist to get started. Each business is slightly different, so use this checklist as a guide and customise the steps to your requirements. Think in terms of the pre-arrival planning and expectations for the first few months.
Tip: Make a checklist to give to the new team member on their first day so everyone is clear on expectations. If you use a project management tool, you can assign them the checklist.
Onboarding a new team member can be a mammoth task and overwhelming due to the sheer number of things that have to be completed during the induction period. Having this process in place will reduce stress and make the entire process streamlined.
No more following up on forms and guessing what the new team member has completed. Everything is organised and easily accessible to those involved.
For your onboarding process to be successful, remember these key points:
With all processes, it's important that they are reviewed, improved and updated often. As soon as something is changed in your process, make the change in the checklist, don't assume everyone knows about it.
Assign onboarding tasks from the checklist to other relevant members of your team. Having a supervisor, mentor or department head to help with the process is great for morale. Don't just delegate tasks but delegate responsibility to complete those tasks in a timely manner.
Assign onboarding tasks to the new team member. This transfers responsibility to them to ensure that the necessary items are completed by a certain time frame. This a great way to measure if your new team member can follow instructions and work to timeframes.
If you would like to learn more about how processes can help you scale your business, get in touch and book a call with me to uncover your business potential.